Notice to Clare County Organizations Providing Recreational Opportunities to Residents or Visitors in Clare County:
Friends of Clare County Parks and Recreation, a 501 (c) 3 non-profit wishes to inform any organization providing recreational opportunities to the general public that funds may be available to support your activities.
Friends has been raising funds for the past two years and is now in a position to provide limited grants to assist in the funding of any recreational practice serving the residents or guests of Clare County.
We are especially interested in helping with projects that require matching funds to leverage other grants for completion.
Please feel free to contact a committee member to discuss your project, application or questions regarding the granting process.
Grants are limited to $1000 at this time. Required information and application procedures are attached to this announcement and may be duplicated for distribution to any interested person or organization.
You may contact any of the "Friends" Board members for assistance in filling your application.
We hope to be able to process all applications within 60 days of the date of receipt.
Your complete application will assist us in this goal.
Click here for information about the grant request application process.
Don Kolander presenting $1000 Grant from Friends of the Clare Co. Parks & Rec. to representatives of the Village of Farwell.
The Grant went towards fixing and painting the swings at the front of the park.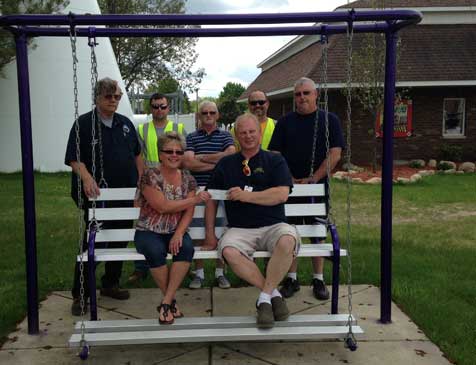 Board Members
Don Kolander -

Chair

Tara Hovey -

Vice Chair

Bob Guiliani -

Treasurer

Joy Simmer -

Secretary

Kim Denton -

Member

Tina Droomer -

Member

Marty Johnson -

Member

Karen Lewandowski -

Member

Deb Sherrod -

Member

Leslie Walker -

Member