Visit Friends of Clare Co. Parks on Facebook




Fundraiser Events: Gateway Affair ~ "Wilderness" Bike Ride ~ Middle 'O Mitt Triathlon

Clare Co. Triathlon & Youth Triathlon: Middle 'O Mitten Triathlon Event June 22, 2014
Managed by Tri To Finish, and Sponsored by Friends of Clare Co. Parks & Recreation, and Jays Sporting Goods.
This was one of the largest recreational events in mid-Michigan, a tourist attraction, it was a great way to showcase businesses while helping promote our community.

THANK YOU TO ALL THE SPONSORS THAT MADE THIS EVENT A SUCCESS!

Jay's Sporting Goods
Cops and Doughnuts
Jim's Auto Body
Colonville Amish Store
Doherty Motor Lodge
Rodgers Athletics
Isabella Bank & Trust
Friends of Clare Co. Parks & Recreation

Click to download the Final Report on this Event...

NOTE: The 2015 MIDDLE O' MITT TRIATHLON is tentatively scheduled for June 20th!
Watch for more information in the future...

Race began and ended at Wilson State Park in Harrison, and consisted of Olympic and Sprint distance triathlons, a sprint distance duathlon, as well as a youth distance triathlon.

Results:
Olympic Results ~ Sprint Results ~ Duathlon Results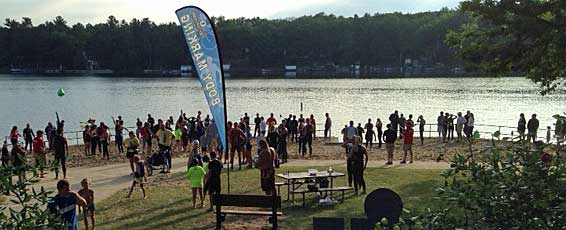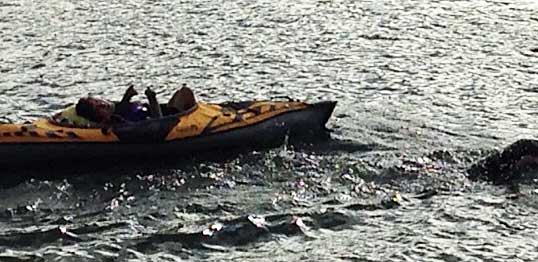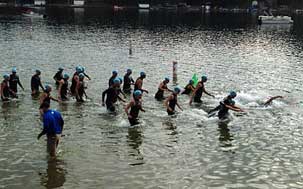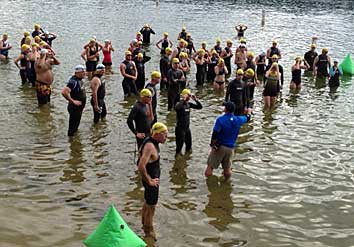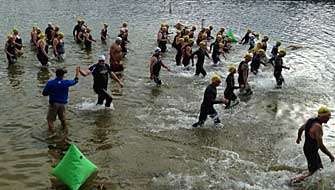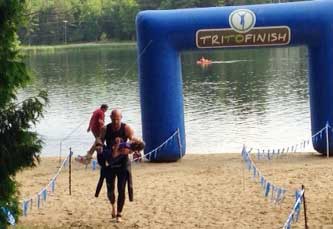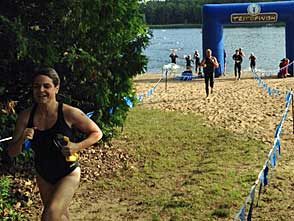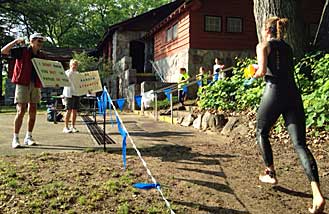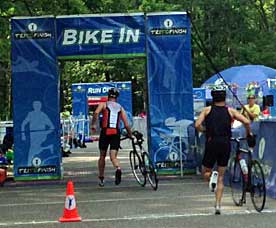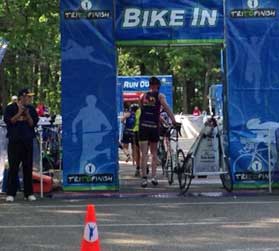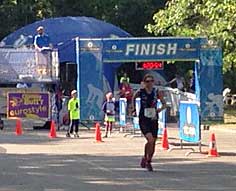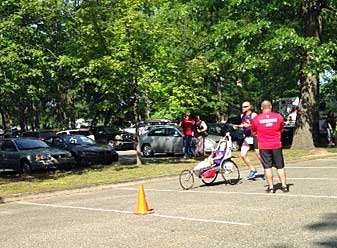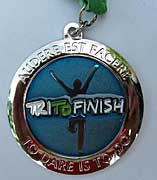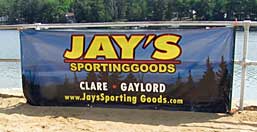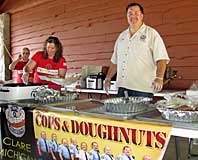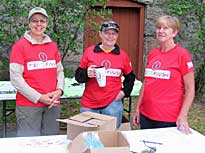 6th Annual GATEWAY AFFAIR: May 17th, 2014 At Jay's Sporting Goods --
Download the 2014 Gateway Affair Press Release (PDF file)
This year's banquet featured live auction, dinner, 50/50 drawing, door prizes, and entertainment.
This event is always a great way to support parks and recreation in Clare County while having a wonderful meal, enjoying entertainment and listening to special speakers. The meal, was prepared by Sally Mason and her staff, included Oriental Salad, Roll w/butter, Roasted Pork Loin, Breast of Chicken, Swedish Meatballs, Cheesy Potatoes, Sautéed Green Beans; Dessert- Assorted Cupcakes; Drinks- Bottled Water, Coffee, Punch. Dinner was followed by entertainment by Michelle's Dog Training who performed with her talented dancing dog. There was a live auction, and drawings for merchandise and services.
Thank you to all the generous people who contributed during this event. All Proceeds went to benefit CCP&RC initiatives.
On behalf of Friends of Clare Parks and Recreation we would like to take this opportunity to "Thank You" for attending the 6th Annual Gateway Affair at Jay's Sporting Goods on May 17, 2014. Your continued support of this event will aid recreational opportunities throughout Clare County. It is our hope that this years "Affair" enhanced your awareness of "Friends" objectives as well as developments on the trail extension and grant program. Your continued support insures improved facilities and programs for all residents and visitors to Clare County
Park and recreation events, programs and facilities will improve community health and well being and also will support economic development and quality of life. These activities promote much needed tourism to the area. A special "Thank You" goes out to the businesses for their generosity in our Gateway Affair auction.
We would be happy to have you in attendance at our regular meetings held the 4th Tuesday of every month at Jay's Sporting Goods, Clare at 6pm. All upcoming events, meetings and happenings can be found on the Events page of our website.
THANK YOU TO ALL OUR SPONSORS (click to read the list...)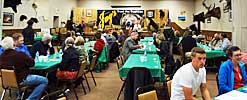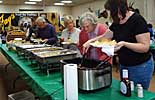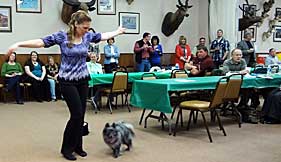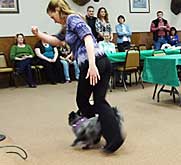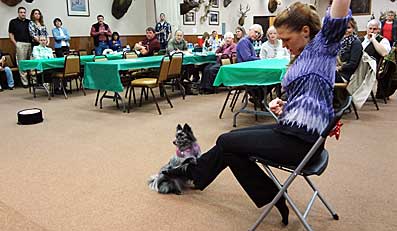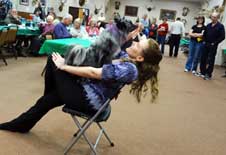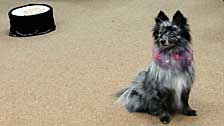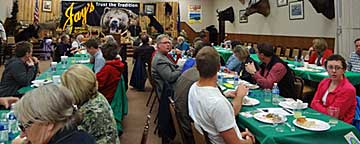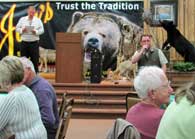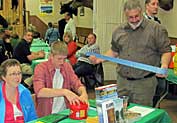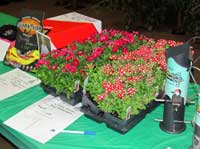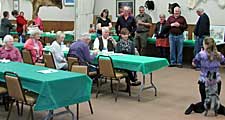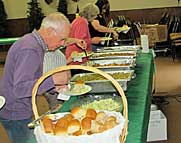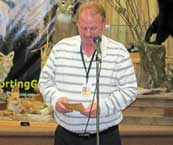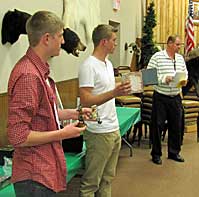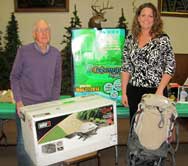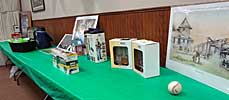 THANK YOU TO ALL THE DONORS !


"Wilderness" Bike Ride on the Clare/Osceola County Section of the Pere Marquette Rails-to-Trails.
Clare to Evart along the Pere Marquette Rail Trail.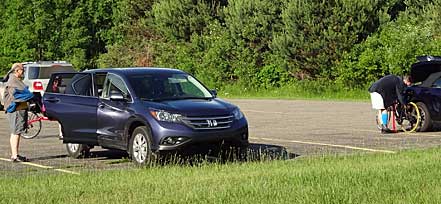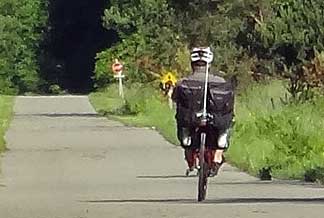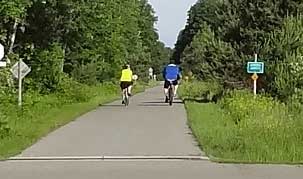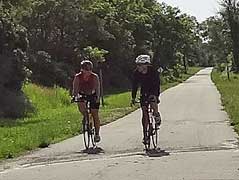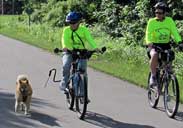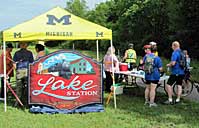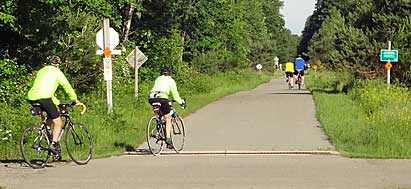 Pere Marquette Autumn Bike Ride on the Clare/Osceola County Section of the Pere Marquette Rails-to-Trails.
Clare to Evart along the Pere Marquette Rail Trail. October 11, 2014.
The Clare County Bike Group participated and helped to sponsor this event.
The ride acquaints riders and communities with the value of "pedal tourism" and color tour along the PMRT. The autumn bike ride enabled participants to visit Clare, Farwell, lake station and Evart. The ride concludes at the depot in Evart, a distance of 25 miles. (50 miles round trip).
THANK YOU TO ALL THE PARTICIPANTS WHO BRAVED THE COLD TEMPS!!!